Dear Friends,
Two weeks ago, I had the opportunity to gather with Friends from across New England and New York Yearly Meetings to explore the ways we "hold the whole" of our spiritual communities.
Hearing from people  about their experiences, I was moved by this reflection from Kathleen Wooten of Fresh Pond (MA) Friends Meeting, and wanted to share it with you. Kathleen's message resonates with conversations I've heard happening in many Friends communities, across our region and beyond.
In these conversations, I hear a rising invitation to reorient our hearts toward spiritual abundance, toward welcoming the diverse gifts we've been given for the good of the whole community. This is challenging work. For some of us, it may call us to re-examine how we understand the economics of grace.
In our wider society, we're often accustomed to seeing what benefits one as a loss to another. As Quakers, even in our meeting communities, we can fall into the sense that giving "too much" attention or care to some diminishes others. It's almost as if we're concerned that if we help our neighbor to spread her wings and take flight, we might be left behind.
But it doesn't have to be this way. In celebrating, we just might be given more to celebrate. In giving, we might receive. In helping each other grow in particular service, even more of us might come alive to how we are called to serve, becoming more and more fully the channels of Love we were born to be. We serve, each in our own way.
Becoming a spiritual community that helps everyone to find their place at the table—and to set the table for others—might take us all. In these days, when the fabric of our society is torn by anxiety, isolation, and fear, Friends tradition invites us to a different path. When we help each other come alive, we come alive to serve.
And what, after all, is the purpose of wings?
Here's Kathleen:
When penguins swim, they are one of the fastest animals and most effective hunters on the planet.  They dive deeply, speed around catching fish, and are generally obviously made for what they are doing in that moment. With wings. In water. Hmmmmm.
The times when I am able to come most fully alive, to live into the piece of God's kin-dom I am meant to shepherd and serve, is when I am simply able to feel direct nudges of the Spirit, and experiment with what works best for the tools I possess. I need to be able to take risks, to fall down safely, and to be encouraged to keep going.
Read more of Kathleen's blog here.
Whether we fly or swim, our wings—the gifts we've been given to carry—aren't for us alone. They're for the building up of the whole community, given to be a blessing for the whole world. This month, with each other's help, may we come to more fully know, embrace, and express the particular qualities we were born to share. With the love, care, and encouragement of our Friends, may we reach out to those around us, with the gift of all we are.
in faith and service,
Noah Merrill
Secretary
New England Yearly Meeting of Friends (Quakers)
Explore Quaker Discernment & Decision-Making
NEYM Presiding Clerk Fritz Weiss (Hanover, NH, Friends Meeting) and former Presiding Clerk Jackie Stillwell (Monadnock, NH, Friends Meeting) will lead a two-part workshop to explore clerking basics on April 13 at Beacon Hill Friends House.

The morning session is designed for Friends with little or no experience with clerking; the afternoon session will provide experience in facilitating Quaker decision-making process. Friends may choose to attend one or both sessions.
Exploring Prayer and Meditation
On May 24-27, Marcelle Martin will lead this three-day weekend exploring numerous approaches to prayer and meditation, including thanksgiving, petition, intercession, healing prayer, Examen, Lectio Divina, mindfulness meditation, walking meditation, Centering Prayer, Grand Silence, extended meeting for worship, and prayer with scripture, images, music, and the body.

This workshop is also a chance to experience a taste of the Nurturing Faithfulness nine-month course, to be offered at Woolman Hill August 2019–May 2020, in partnership with New England Yearly Meeting of Friends.

Register for Exploring Prayer and Meditation at the Woolman Hill website.
Join the Virtual Plenary Experiment
In the February and March newsletters we shared videos by Lisa Graustein (Beacon Hill, MA, Friends Meeting) for  a "Virtual Plenary" to deepen engagement with the theme for 2019 Annual Sessions, "Provoke One Another to Love." This is an opportunity for meetings and individual Friends—whether or not they are planning to attend Annual Sessions—to take part in exploring these important issues that we face as Friends today. All of the videos and related resources are posted here.

This month we are sharing two of three videos about Climate Change. (Part 3 will be posted on the website as soon as it's available, and included in next month's newsletter.)

These videos were designed to be viewed on your own and can also be used to shape an adult religious education session, using the reflection questions for discussion. If you want support or ideas for how to use them in First Day School or for adult programming, contact Lisa.
Virtual Plenary—Climate Change, Part 1 of 3: The Minutes
Virtual Plenary—Climate Change, Part 2 of 3: Patterns of Diversity
Sharing—And Celebrating—New Shapes of Service
From Yearly Meeting Secretary Noah Merrill:
With joy, I'm writing to share some exciting shifts in the focus of work of two Friends serving New England Quakers as staff.
Maggie Nelson
Maggie Nelson (Portland, ME, Friends Meeting; pictured right) has previously served as part of the Friends Camp staff; as the founder of Art Camp, a weeklong camping program for adults exploring art as an expression of spirituality (now a program of Friends Camp); in an interim role coordinating the Young Friends (high-school-aged) program last year; and since the fall in an exploratory short-term role. I'm grateful to announce that Maggie will be moving into the new—and ongoing—staff role of Young Friends Events Organizer.
Maggie will have primary responsibility for Young Friends programming and events. She will work closely with Gretchen Baker-Smith (Westport, MA, Friends Meeting) to nurture connections with the Junior High Yearly Meeting program, and to strengthen transitions and continuity of relationship between these vibrant ministries of New England Friends.
Nia Thomas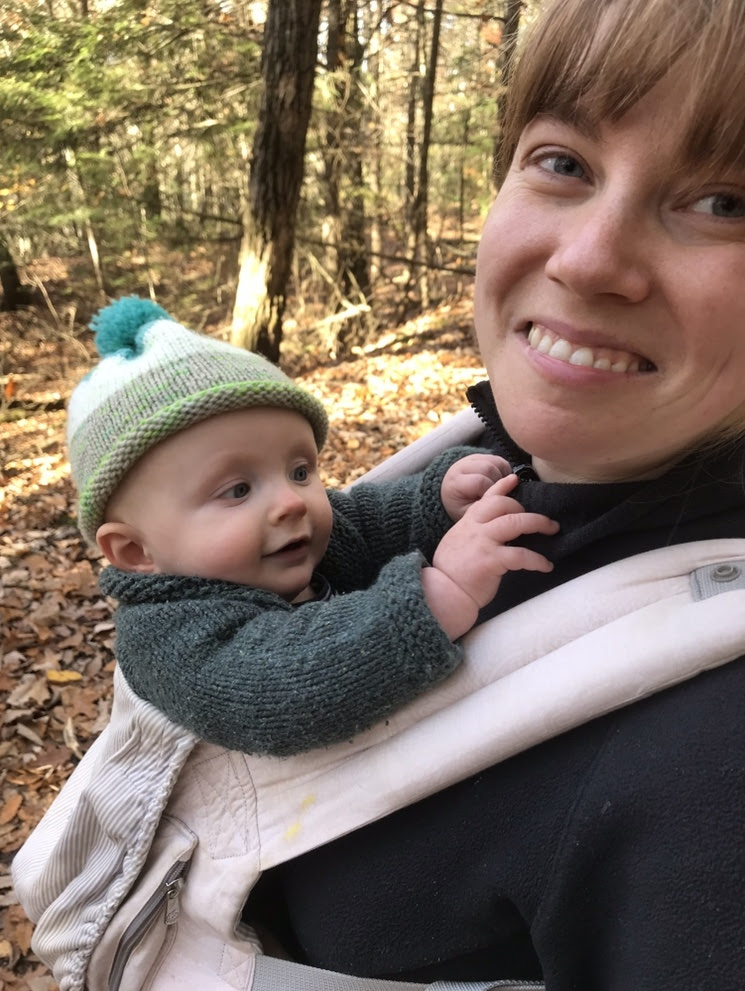 Maggie will serve with support from—and in collaboration with—Nia Thomas (Northampton, MA, Friends Meeting; pictured right with baby Llewelyn), who has nurtured Young Friends for many years and will continue to be involved in many aspects of youth ministry with teens, families, and meetings.
In turn, Nia's focus will shift to more fully include work with Friends of all ages in the new role of Quaker Practice and Leadership Facilitator, helping New England Quakers deepen our engagement with spiritual formation, training in Quaker practice, and the nurture of leadership. In this role, Nia will be working to help network and convene those active in these areas of ministry, curate resources, and connect many more people with opportunities that nourish their gifts and help the Quaker movement to thrive.
Responding to Continuing Revelation
While these new titles and staff roles are being formalized this spring, in reality they reflect an unfolding of this work that has been in process organically for some time. This change in orientation builds on learning from a three-year grant funded project, supported by the Shoemaker Fund, to learn about fostering vibrant multigenerational spiritual communities. It reflects a continuation—and an evolution—of some of the groundbreaking experiments in outreach and religious education led until last fall by Beth Collea (Wellesley, MA, Friends Meeting). And this transition responds to the wider discernment of Friends throughout New England in recent years on the need to focus more intentionally on nurturing the web of local Friends meetings and the wider ecology of the Quaker movement across our region.
We hope you'll experience the fruits these changes will bear in the life of Quakers in New England in the coming months. In the meantime, you can reach Maggie at maggie@neym.org, and Nia at nia@neym.org. As always, I'd also be happy to hear from you at ymsec@neym.org.
I'm grateful for each of the many, many Friends who have helped with vision, discernment, questions, expertise, prayers, and ongoing financial support to make these transitions possible.
I hope you'll join me in celebrating these changes, congratulating Maggie and Nia, and looking forward to new growth and possibilities as this work unfolds!
in the Love that makes us Friends,
Noah Merrill (Putney, VT Friends Meeting)
Secretary
New England Yearly Meeting of Friends
Supporting Our Muslim Neighbors
Maine Friends Support Maine Native Tribes
Leslie Manning (Durham, ME, Friends Meeting) spoke on behalf of the Friends Committee on Maine Public Policy in support of funding for the Maine Indian Tribal State Commission on March 19. You can read her testimony here.
Support for Our Immigrant Neighbors
South Starksboro (VT) Friends Meeting has passed a minute in support of immigrant families and asylum-seekers. Read the minute here.
Called to Nurturing Faithfulness?
Might you be led to participate in a multi-generational faith and leadership program designed to help Friends explore ways to meet God more deeply, deepen discernment, reach for fuller faithfulness, and share these gifts and skills with your local meetings and beyond?

Consider joining the Nurturing Faithfulness program beginning in August 2019 co-led by Hilary Burgin (Beacon Hill, MA, Friends Meeting) and Marcelle Martin.

Click here for more information, and decide if this is the program for you or someone you know.
Work behind the scenes with staff and volunteers in the Yearly Meeting office during Annual Sessions in August. You will be supporting the Office Manager during the two weeks that the office is on site at Castleton University in Vermont. It's busy, sometimes chaotic, but also fun. Read the job description and if you're interested, email Office Manager Sara Hubner.
Speaking Out Against the Death Penalty
On March 26, the New Hampshire Senate Judiciary Committee heard testimony on HB 455, a bill to repeal the state's death penalty. Among those who spoke in favor of the bill were Marian Baker (Weare, NH, Friends Meeting and a representative to the N.H. Council of Churches), Margaret Hawthorn (Monadnock, NH, Friends Meeting), Bess Klassen-Landis (Hanover, NH, Friends Meeting), and Arnie Alpert from the American Friends Service Committee New Hampshire office.
Marion Baker testifies in opposition to the death penalty in New Hampshire
Friends Camp Has Adopted Art Camp!
With two years under its belt as a grant-funded independent ministry, Art Camp is becoming a program under the care of Friends Camp. Maggie Nelson (Portland, ME Friends) will continue to coordinate, with support from Friends Camp Director Anna Hopkins. You can read more about this change here.
Watch for more details about this year's Art Camp, both here in this newsletter and on neym.org!
Quilts for Beauty and Comfort
Preserving Your Meeting's History
Friends Celebrating Pete Seeger
Image by David Mark from Pixabay
Friends from nine meetings across New England are organizing singalong concerts in their area to celebrate the 100th anniversary of Pete Seeger's birth—and the many groups carrying on his lifetime of work on behalf of peace, justice and the earth. You can find more details here.
Annie Patterson & Peter Blood of Mt. Toby (MA) Meeting will lead Friends in a singalong concert of Pete's songs on Tuesday evening of Annual Sessions in August.
Apply for a Prejudice & Poverty Grant
The Working Party of the Yearly Meeting Racial Social Economic Justice Committee (RSEJ) seeks applications for grants from the Prejudice and Poverty Fund. We urge "organizations who work to alleviate the suffering of segments of the U.S. population" to apply immediately.

Read details about application and submit your request for consideration this month.
Emily Savin (Northampton, MA, Friends Meeting) discovers her inner rebel and breaks one of her mom's sacred rules in this episode of "Curveball," which you can watch here (Emily's story begins at 17:57).
News of New England Friends sharing and acting from their faith:
Are you aware of Friends or Friends Meetings featured in the media? Email us so that we can share the news!